'He who laughs last laughs loudest.' A common and well worn saying for all life, but something that holds extra significance for sporting matters of the highest importance, and many are already putting the second Ashes test as a matter of life and death for the future of the series following Australia's 381-run romp in Adelaide where Mitchell Johnson amongst others bought about two batting collapses reminiscent of the horror decade for English cricket fans known as the 1980's, while a bitter fight about what was acceptable sledging soon followed in a messy aftermath that saw the sad departure of Jonathan Trott with a stress related illness.
The result was one that has been alien for English cricket under Andy Flower but the failings had been all too similar through the last year. Whether to spin, swing, or bounce, England's shot selection fell apart under pressure away from home and what had looked to be a promising position of 81-2 fell into 136 and then 72-3 in the second innings turned into 179. Mitchell Johnson wrecked the havoc then but all three Australian bowlers had the edge on England with varying levels of control, pace and aggression, with even Nathan Lyon wreaking some scoring innings havoc at one point.
Barring Stuart Broad, the English bowling attack – which looked worryingly tired at points during the second innings – could never put Australia under such pressure and with Graeme Swann especially exposed by Michael Clarke and David Warner the match failed to reach a fifth day.
The cutting of Australia into heavy series favourites is understandable but could yet be premature. Under Flower England have taken many mannerisms and one is the huge amount of improvement in their batting and test performances from their first test of a series. Only three sides have come back from an opening defeat to win a series in Australia, but Flower's side have plenty of reason to believe that they can be the fourth. Since 2009 under Flower , England have played 18 second tests in a series; They have lost just once, that when collapsing in Pakistan having dominated the game to such a point were they were chasing just 144 for before their spin woes got the better of them. On 13 occasions they've won the second test of a series, including in India when much like now, the hosts were heavy favourites for a series win.
The improvement in recent first innings performances is also stark. England's first innings totals in Pakistan, Sri Lanka, India, and New Zealand read; 192, 193, 191, and 167; Second time around they read 327, 460, 413, and 465.
Australia's dominance was clear for all to see first time up and nobody id denying that Michael Clarke's men shouldn't be favourites ahead of England, but the likely return of Tim Bresnan to the side and the switch to Adelaide may even the balance.
Much has been made of the drop in pitch prepared for this test and all the early evidence suggests that the bowlers will have their work cut out. The 2 Sheffield Shield matches played here ended in draws, Australia's first innings average here is over 500 and three of the last 6 tests have ended in a draw.
West Australia's Adam Griffith decided it as the flattest pitch he's ever seen, and Nathan Lyon expects a 'belter'. With much of the edge likely to be taken out of the pitch if that is to be believed, slight doubts over England having to deal with changing their lineup despite the excellent second test record – Joe Root is moving upto 3 to accommodate Trott and it remains to be seen how on form their bowling attack is – the match outcomes are avoided for now. Backing an England series win was tempting but the high possibility of a draw ahead of a bouncy third test pitch and our previous investments leave us well stocked.
If first match performances did decide a series, then the urn would be going back to Australia for the first time in 4 occasions. However an Ashes series sways all too often for certain early predictions and in Australia's city of Churches redemption will not come easy for England but it's certainly a possibility.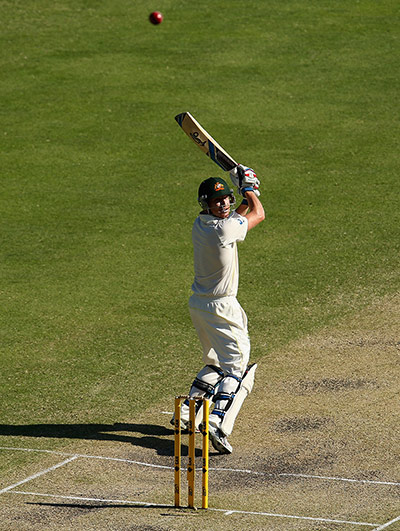 In terms of the value, with such a pitch the batsmen may be the place to look for batting purposes and the Australian pairing of
Michael Clarke
and
Brad Haddin
(left) might be the places to go. Clarke has scored 5 centuries in his last 6 tests at the venue, averaging an astonishing 85.22 here, and after a dazzling 113 in the first test, looks a bet to nothing for a first innings century at 4/1 with Ladbrokes, and on the combined match innings handicap off scratch with Ladbrokes, whose 7/1 is more tempting than the 3/1 on offer for him to be the best Australian batsman.
Haddin's rich vein of form doesn't look like stopping and a mark of 98 for him on Bet365's player performance handicap (1 pt per run, 10 per catch, 25 per stumping) is more than fair. In rapid knocks of 53 and 94 Haddin made 147 runs at the Gabba and has an average of 52 here in just 4 matches – where his make ups read 1999, 116, 78, and 113 – and his first test makeup ended at 197. He can also outscore Matt Prior, who hasn't made more than 26 on this tour so far, giving 2 runs in Ladbrokes's handicap match bet market.
Of special interest from England for any batting market is Kevin Pietersen, who has 158 in 2006 and 227 in 2010/11 here in the past, with his second test first innings record as remarkable as any, as Sportingbet's ever readable
Dave Tickner shows here
, but Haddin and Clarke offer the value for us here.
Advice
1 pt Michael Clarke to score first innings century (4/1 Ladbrokes)
1 pt Michael Clarke scr on 1st Innings H'Cap (7/1 Ladbrokes)
3 pts Brad Haddin to earn 98 or more performance points (5/6 Bet365)
2 pts Brad Haddin -1.5 to outscore Matt Prior in 1st innings (5/6 Ladbrokes)